Civil Engineering Department
Civil Engineering is considered to be the most versatile branch among all the engineering branches.
The Department of Civil Engineering has been in existence since 2014 and has grown into a full-fledged department. The departmental activities embrace Planning, Design, Construction and Management.

Civil engineering is a broad field of engineering that deals with the planning, construction, and maintenance of fixed structures, or public works, as they are related to earth, water, or civilization and their processes. Most civil engineering today deals with power plants, bridges, roads, railways, structures, water supply, irrigation, the natural environment, sewer, flood control, transportation and traffic. In essence, civil engineering may be regarded as the profession that makes the world a more agreeable place in which to live.
Achievements:
SITE VISIT
Our student had got permission from RVNL to visit Flyover Construction Work on 8th August 2015. Proposed new Broad gauge line between Obulavari palli and Venkatachalam road junction proposed construction of Rail Road Bridge and rail over rail bridge at KM 93 to 95 between Kasumur to Venkatachalam road junction crossing NH5 at 154/148 from Gudur to Nellore and railway KM 155/22-24 between komarapudi and venkatachalam in south central railway.

INAUGURATION

In the occasion of Engineer's day our Civil Department inaugurate the statue of Sir Mokshagundam Visvesvaraya on 15th September 2015.
SURVEYING CAMP

Our students got a wonderful opportunity to do Surveying camp from 8th Feb-13th Feb 2016. Our students worked with total station in the camp and them known about V.D.F. flooring, construction procedure of pile foundation.
Laboratory Information: We have full-fledged Laboratories.
Research and Development cell
------------------------------------------------------------------------------------------------------
CSE Department
The future of Computing and IT systems rests here. The department's mission is to advance, evolve and enhance Computer Science and Software Engineering fundamentals to build the intellectual capital of research and students. The CSE Department Endeavour's to be an important regional, national, and international resource center for the development of Computing, IT and Software systems and applications.

The B.Tech. in CSE is a broad and flexible degree program with the curriculum specifically designed to reflect the depth and breadth of computer science. The B.Tech in Software Engineering is a specialized program to suit industry needs with the curriculum designed by industry experts.
The department has well-qualified and experienced faculty who are specialists in the various domains like databases, artificial intelligence, web services and networks. There are a sizable number of senior faculty members with over 10 years of experience in the stream. A good number of faculty have undergone training and are certified through Faculty Empowerment Workshop conducted by MISSION10X.

The CSE Department works closely with several related industries of repute. These relationships facilitate funded projects and the opportunity to learn the latest technologies.

The CSE Department effectively prepares students to pursue leadership, technical, and management positions in a variety of industries. Students have obtained successful placements at leading companies like Infosys,, Cognizant, TCS, Satyam etc.
------------------------------------------------------------------------------------------------------
EEE Department
Electrical Engineering Department was established in the year 2002. The department has been successful in producing the brilliant and well trained Engineering graduates.A few of them are university toppers and many of them could get admission to higher studies.The Department has conducted AICTE sponsored Staff Development Programmes, in 2006. The department is organizing "A National Level Student Paper Contest" called TEQNOQUEST every year from 2006 onwards.

This Department is headed by Associate Prof. S. Prakash., he obtained the bachelor's degree in Electrical Engineering from KM College of Engineering and Technology, JNT University Hyderabad, in 2009, Masters in Narayana Engineering College in 2012, JNT University, Ananthapur. After Completion of B.Tech., he worked in Ramky group of Company Limited, located at Hyderabad ,. After working in Industry he joined in GKCE, Sullurpet. He is having about 5 Years of teaching experience in GOKULA KRISHNA COLLEGE OF ENGINEERING. He served GKCE at various capacities like Coordinator for Staff Development Programmes etc. He guided several U.G and PG Projects. Presently he is working as Associate Professor and Head in the department of Electrical Engineering.
Lab Information
Electrical and Electronics Engineering Department was founded along with the institute in the year 2002 with a threefold mission in teaching, research, and public service. Based on that foundation, the mission of the Department, in all major fields of electrical engineering, is to instill in students the attitudes, values, vision, and training that will prepare them for lifetimes of continued learning and leadership, to develop the ability and passion to work wisely, creatively, and effectively for the benefit of society.

The department has well-equipped laboratories like Electrical Machines lab, Power Electronics & Control Systems lab and Networks & Electrical Measurements lab. The major equipment in the laboratories include A.C & D.C Machines, C.T.Testing Equipment, Power Electronic Kits, Control equipments & major Electrical circuit equipments.
1) Electrical machines lab
D.C Generators and Motors
Three phase Alternators
Resistive and Inductive loads.
Induction motors
High torque motors.
Transformers single and three phase.
2) Control systems and power electronics lab
Electric drives and converters
Choppers
High rating power electronic rectifiers with wide range of control.
Magnetic amplifier.
Temperature control of oven using PID controller.
DC Servo motor.
3) Electrical Measurement Lab
Calibration of power factor meter.
Calibration of Energy meter.
DC Crompton's Potentiometer.
Schering and Andersons Bridge.
------------------------------------------------------------------------------------------------------
MBA Department
MBA course was started in 2007 with a sanction of 60 seats. In 2014, the department added another section of 60 seats and together 120 seats. We are doing things uniquely. We go beyond the regular academics with an emphasis on practice. There are programs that help students develop leadership skills, critical thinking skills, communication skills and effective implementation skills. The idea behind these programs is the emphasis on the doing and being part of the curriculum personality development, Communication skills etc are a part of their classroom sessions which ensures their individuality and helps them to face the competitive world. The MBA degrees are awarded by Jawaharlal Nehru Technological University, Ananthapur, India.

The MBA degree offered by the Jawaharlal Nehru Technological University, Ananthapur, India is a two-year program which aims to equip students with the basic knowledge of all areas of management and provide in-depth knowledge in a chosen area of specialization. The first two semesters focus on the fundamentals of marketing, finance & human resources. Apart from core specialization subjects, students are also taught general foundation courses like statistics, operations research and operations management. The last two semesters provide in-depth knowledge in an area of choice. In these semesters, students are taught general management subjects like strategic management and knowledge management, which help them to perform well in middle-level managerial positions.

Examination System:
The examination system consists of internal exams and end exams. Internal exams will be conducted by the college on behalf of the JNTU, Ananthapur. The end examination will be conducted by Jawaharlal Nehru Technological University, Ananthapur.

Theory subjects would be evaluated for 40 marks internal and 60 marks external examination and practical subjects would be assessed for 40 marks thorough internal exams& the remaining 60 marks through external exams. In addition, project work shall be evaluated for Grading.
Achievements:
During the academic year 2012-13 two students got prestigious Prathibha Awards from the State Government. The student's details are:
| | | | |
| --- | --- | --- | --- |
| Academic Year | Registration Number | Student Name | Percentage |
| 2012-2013 | 12F81E0018 | C. Keerthi Priya | 84.75 |
| 2012-2013 | 12F81E0013 | B. Jhansi Rani | 82.02 |
------------------------------------------------------------------------------------------------------
MCA Department
The department of MCA was started in the year 2006 and has highly skilled, qualified and experienced faculty members. The department has been progressively working towards producing masters who are well equipped to serve the needs of the present and the future industry requirement and in turn contributing to the society.

It should be kept in mind that it is a rigorous three years of intensive theory and practical work, hence even before appearing for the entrance test, one should have had enough exposure to computers, and a confidence that one can go deeper into the subject with ease.

MCA is a three year (six semesters) course approved by All India Council of Technical Education (AICTE). The selection is based on performance in the qualifying exam, written test and personal interview. It is a very practical program with 26 instructional courses and 14 practical's each of 4 hours per week, spread over the first five semesters, and seminars and project work in the fifth and final semesters. During the sixth semester students generally go to the industries and implement a real time project which is directly useful to the organization concerned

Achievements
The Department has conducted One Day National Seminar on "Data Warehouse and Data Mining Through J2ME " on 4th October 2008.
The Department Conducted a Workshop on MS-Office on supporting staff on 5th October 2009.
The Department has formed a student's Association name AIMC Association Of IT MCA & CSE -We Aim To Create on 17th November 2009.
The Department has released a Bi-Monthly Magazine called CYBERCREST-Wings of Techno spirit.
The Department is conducting various Technical & co curricular activities on behalf of AIMC to inspire the budding professional in a positive way both professional technically.
Mr Praveen & Mr.M.Rajesh of M.C.A participated in "NEST-2K10" and secured 1st prize at Narayana Engineering College.
Mr Praveen & Mr.M.Rajesh of M.C.A participated in "ZINIOS-10" and secured 2nd prize at Kuppam Engineering College.
In the Academic year 2014-2015 N.Lalitha got gold medal from JNTUA university for top ranker
------------------------------------------------------------------------------------------------------
MEC Department

The Department of Mechanical Engineering was started in the academic year 2004. Mechanical Engineering is often called the mother of all engineering. It covers a host of subjects: Engineering Drawing, Material Science, Machine Design, Mattel processing, Manufacturing, Thermal Engineering, Refrigeration and Air Conditioning, Industrial Management, Robotics and much more. The AICTE/JNTU has sanctioned M.Tech (Machine Design) course from the academic year 2014-15. The department has excellent infrastructure facilities and modern laboratories. The department has maintains a close liaison with industries and ensures that students are trained as for global requirements.

The dependent currently runs one diploma, along with one engineering undergraduate and one postgraduate programmer:
Diploma in (Mechanical Engineering) with intake of 60 students
B.Tech in (Mechanical Engineering) with intake 120 students
M.Tech in (Machine Design) With intake of 18 students
Achievements:
GKCE students achieved outstanding performance in robospicies at IIT karagpur
Laboratory Information:
GKCE Mechanical department have a well equipped laboratory with experienced lab technicians, following are the list of laboratories:
Workshop technology
Material science Lab
Manufacturing technology Lab
Thermal Engineering Lab
CAD/CAM and Analysis Lab
Mechanics of Solids Lab
FM And HM Lab
ICS Lab
Heat transfer Lab
Metrology & Measurements Lab
Machine tools Lab
------------------------------------------------------------------------------------------------------
ECE Department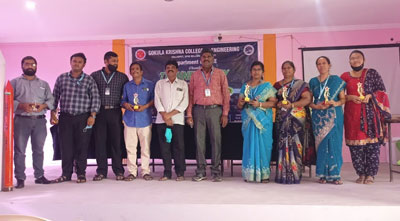 ECE Department was established in the year 2001 with an avowed intent of raising qualified Engineers and Researchers who can make substantial contribution in the field of Electronics and Communication Engineering. The department has ECAD Lab, Processors Lab, Digital Circuits Lab, EDC Lab, VLSI & Embedded Systems Lab and Communications Laboratory equipped with FPGA kits , Microprocessor, Microcontroller & DSP kits, Antenna Measurement system kits, ALSK Kits, MSPEXP430FR5969 kits. Also department has more than 100 systems with licensed software, such as Xilinx ISE , Multisim 8.2.1, Active HDL 6.1, MATLAB 7.5, b2spice 4.2 and MASM .
ECE department has highly qualified, dedicated and enthusiastic faculty who impart wholistic education to the students. Students of this department not only exhibit their excellence in studies also participate in workshops, National & International level student symposiums, National & International conferences to enhance their technical & life skills. Mr. V. Manish Jain student of this Department has secured University 1st rank and received Gold Medal from the Vice-Chancellor JNTU, Anantapur for his best academic performance in the year 2009.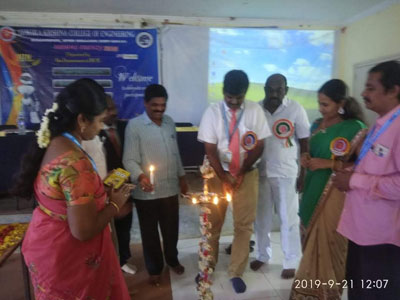 ECE is a rapidly advancing field, with new ideas emerging every other second. From mobile phones to remote sensing, there are exciting avenues to explore and create even better ideas. The ECE Department at G.K.C.E prepares students for careers in this constantly evolving discipline. The Department has specialists from the fields of Image Processing, Embedded systems, Communication systems, VLSI Design, Wireless & Mobile Communications etc. The department has well equipped laboratories offering good infrastructure to conduct experiments in all fields and we have generated additional experiments apart from the JNTUA curriculum to impart more practical training to students.
Every year about 90% of eligible students are securing placements and the department is surging ahead to achieve 100% placements through on and off campus placements. At present department is running a full time UG program in ECE, one full time PG program in Digital Electronics & Communication Systems (DECS) specialization and one II shift Diploma course(DECE). The department has embarked research activities in the fields of
Signal & Image Processing
VLSI & Embedded systems
Computer Networking & Communications
Wireless & Mobile Communications and looking forward to have tie-ups with companies/ Industries in these fields to carry out and develop research these fields.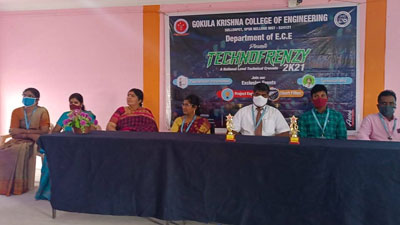 In every summer vacation pre-final year students prepare working models in all the fields of ECE discipline. Technical experts are invited for National level Students Symposium to enhance the technical knowledge of the students in diversified fields. GKCE students designed and developed the working model on GSM based Digital Display system and trials are on to embed voice control. Every year the Department is successfully conducting National level student symposiums. The biannual news letter ELCOM released by ECE Department gives opportunity to the students to bring on their proficiency and explore skills by way of contributing articles on various subjects.
The overall environment in the department is conducive and congenial for steady growth of knowledge, personality development and improves research aptitude of students. The academic activity is continuously geared up and monitored to cope up with emerging trends of technological development and innovations. Number of academic activities, events, co-curricular and extracurricular activities empower the students to place them in the higher bracket of "Ready to be Absorbed" industries.

Vision of the Department
To raise the technocrats who can make substantial contribution in the field of Electronics & Communication Engineering.

Scope for Employment
An Electronics Engineer can get a job in Central Government, State Governments and their sponsored corporations in public enterprises and the private organizations. Electronics engineers are also absorbed into the entertainment transmission industry, research establishments, and defense. They can be placed in the Ministry of Communication, All India Radio, DD and In information and broadcasting sectors, railways, police, BSF, CRPF and defense related organizations and in research organization like ISRO.
They can be a successful Design/Hardware Engineer in one of many Hardware companies like HP, Sony, Dell, Samsung etc., as well as a successful software Engineers in private software companies like IBM, INFOSYS, WIPRO etc.
They can also take up teaching and Research in one of the many Technical Educational institutes in India or abroad.