About Gokula Krishna College of Engineering
---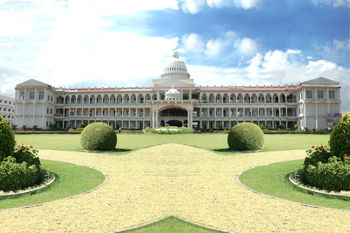 Gokula Krishna college of Engineering (GKCE), Sullurpet. is known for its excellence standard for technical education and associated research.
As you are aware that AICTE is the body in the nation, which controls and dictate the norms for functioning of U.G and P.G programmes in the Engineering Colleges. By next year, the plans are ahead to get accredited by National Board of Accreditation (NBA) which is a part of AICTE.
Started initially with three undergraduate Engineering courses – ECE, CSE and IT – G.K.C.E today comprises five branches i.e.. ECE, CSE, IT, EEE and ME within a span of four years and going ahead with its plan for offering P.G programmers - MCA and MBA. There are about 1600 students as on today out of which 1/3rd are girl students. The lifeline of any institute is 'Faculty' itself. We have a strong, dedicated pool of qualified faculty numbering over 90 and they are committed to create a congenial student friendly environment that facilitates interaction with and among students leading to a better understanding of subject studied. Students and faculty ISTE chapers are functioning at present. GKCE is an ISTE member.
We also adopt an international Business Oriented approach through education that enables students to meet today's emerging global educational needs and function effectively in their chosen professions.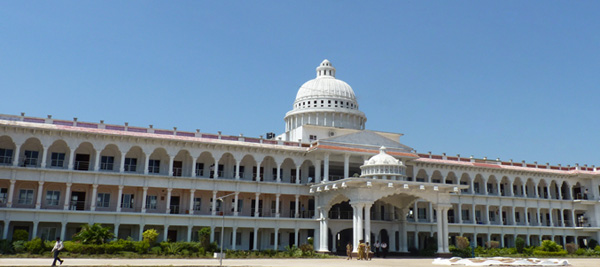 Gokula Krishna College of Engineering, Sullurpet in 2003, was awarded the ISO 9001:2000 certificate by JAS-ANZ of Australia and New Zealand, the first education Institute among the nearby engineering colleges and first in the district.
Gokula Krishna College of Engineering, Sullurpet is located at 4km away from sullurpeta town, 80km from district Head quarters from Nellore, Chennai (formerly Madras) is 80km away from this place and 75km away from the Balaji Temple town of Tirupathi towards west of this place. Its campus spread over 30 acres land on the bank of NH5, facilitating, easy access towards Chennai or Nellore. The Andhra state small scale industries are situated at TADA which is 12km away from Gokula Krishna College of Engineering and this provides a very good industry – institution understanding and interaction. Further at Gummidipundi, various middle and low size industries are situated under the flagship of Tamil Nadu small scale Industries. The students of Gokula Krishna College of Engineering frequently visit Gummidipundi to get exposed in practical knowledge.
Founders:
President: G. Brahmaiah
Builders: Brahmaiah & sons


Secretary: M. M. Kondaiah
R. K. Township Promoters (p) Ltd.



Treasurer: C. Srinivasa Baba B.Sc, BL


Our Vision
We at Gokula Krishna College of Engineering will impart futuristic technical education and instill high patterns of discipline through our dedicated staff who shall set global standards, making our students technologically superior and ethically strong who in turn shall improve the quality of life of the human race.
Our Mission
Our mission is to educate students from all over the state even country including those from the local and rural areas so that they become enlightened individuals improving the living standards of their families, industry and society. We will provide individual attention world class quality of education and character building.
Our Quality Statement
We at Gokula Krishna College of Engineering aspire to establish of quality assurance which would on a continuous basis evaluate and monitor the quality of education and training imparted at this college, improve the teaching learning process and ultimately develop the institute as a centre of Excellence.
LocationGokula Krishna College of Engineering is located in sullurpeta, Nellore district, Andhra Pradesh. 20km away from the famous Rocket launching centre Sriharikota SDSC, SHAR and 93 km from Chennai. The institute's main entrance is on the National Highway 05. The nearest Railway Station sullurpeta is convenient to be reached either by train or bus. Major Express & Mail trains stop at sullurpet.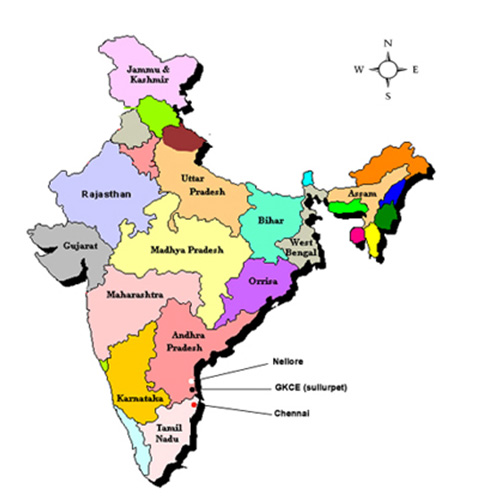 AICTE:
The economic progress of a country is strongly linked with Quality Education with values.... for all. It is therefore, necessary for our technical education to undertake periodic review of the curriculum and subject content of the technical programmes to ensure that they are up to date not outmoded or obsolete and effectively fulfill the technological requirements of the country.
The beginning of formal Technical Education in India can be dated back to the mid 19th Century. The major policy initiatives in the pre-independence period included appointment of the Indian Universities Commission in 1902, issue of the Indian Education policy resolution in 1904 and the Governor General's policy statement Read More....
For More Details Click Here